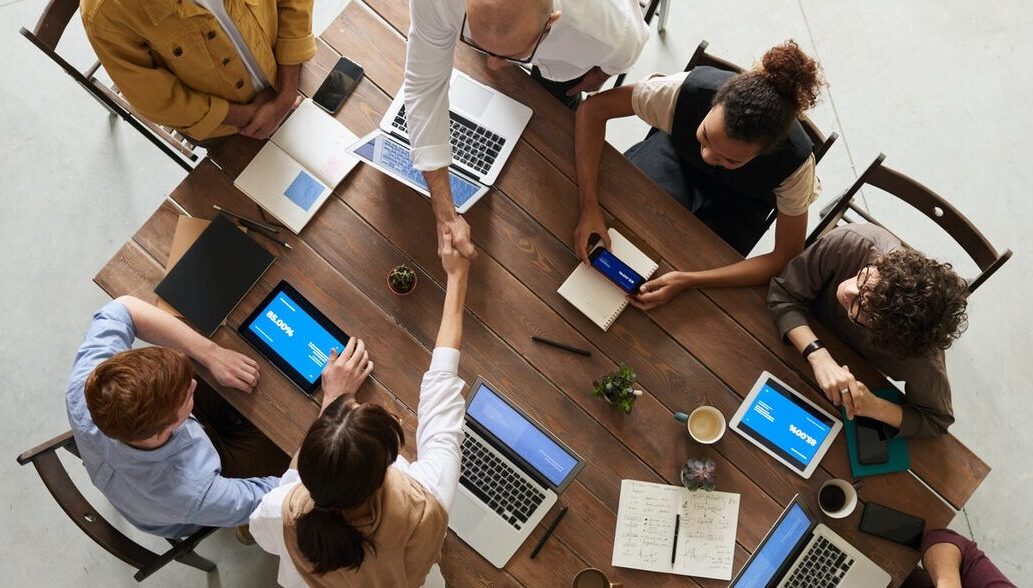 What qualities and skills do the corporate leaders of tomorrow need? Four points on digital transformation and new leadership.
1. A Digital Leader Is A Coach First
Digital leadership places new demands on managers. The leaders of the future must not only have a solid understanding of technology, they should also be able to strategically develop the company's culture. For example, to implement a company-wide data strategy, a leader not only needs to evaluate different data sources and IT solutions, she also needs to reduce the organizational silos and foster a more collaborative company culture. The role of a digital leader is therefore similar to the role of a coach. She inspires and educates her employees about the technological changes in the organization, connecting and enabling them to make the most of these new data-driven opportunities.
2. Technology does not automatically make everything better
Blockchain, AI, IoT – jumping on every innovative technology is not a strategy. Technology alone does not automatically make a business better. It's the people who do. Before implementing a technology-driven change, a digital leader should ask herself: Does the introduction of this new technology create added value for the company? If yes, in what ways does it benefit employees, customers, partners and society at large? What are the primary – intended ­– as well as the secondary – unintended – consequences of implementing this new technology? This last question is particularly important because more often than not, new technologies come with unintended consequences. A timely example is Facebook: The intended consequence has been to connect billions of people around the world. The unintended consequence is, among other things, that fake news can now be distributed at a global scale, destabilizing democratic opinion-building processes.
Thus, we need digital leaders who have a holistic, well-rounded educational background in both the humanities as well as the technical sciences; who are ethically-grounded, forward-looking human beings; who are in equal parts critical and enthusiastic about the technological opportunities ahead.
3. Industry Boundaries Are Blurring
To fuel future strategic growth, digital leaders will increasingly need to figure out how their organization should engage with digital platforms, innovation ecosystems, academic R&D clusters and cross-industry associations. Especially because digital platforms that connect "unlikely allies", i.e. startups, corporates and academic players in areas such as precision agriculture, connected logistics or smart home are blurring the traditional boundaries that once set industries apart.
A neat example of a company that embraces cooperation to increase its innovation capacity is the Swiss Post. They partnered with the EPFL spin-off "BestMile" to test driverless buses in the Alps, acquired a majority stake in the startup "notime" to work on same-day delivery and are currently testing drone delivery of blood samples between hospitals thanks to a partnership with the Silicon Valley based drone company "Matternet". Turning innovation projects like these into business successes can be challenging. In particular, a digital leader needs to master two skillsets: on the one hand, she needs to excel at stakeholder management and facilitation. On the other hand, she needs to actively shape the company's innovation culture, increasing the organizational capacity for openness, trust, stamina, entrepreneurship and experimentation.
4. We Can't Just Continue With Company Culture As Usual
In 2018, in cooperation with the Swiss Management Association (SKO) and an academic partner, I initiated a study on "Leadership – The Swiss Way." We interviewed over 450 executives in Switzerland, asking them what the typical attributes of Swiss leadership are and how it must evolve in the future. Although the study was only carried out in Switzerland, I believe the results generally apply to the entire German-speaking region. According to the ranking, the top attributes of Swiss leadership are the following: a strong sense of quality, efficiency, performance and loyalty. At the bottom of the ranking, the surveyed managers listed flexibility, inspiration, enthusiasm and willingness to take risks. When we asked the same managers, however, what attributes they thought will be most important for the future, they responded: flexibility, inspiration, enthusiasm and the willingness to take risks, i.e. everything we tend not to find in the current leadership style. So, essentially, the leadership style we exercise today and the one we need tomorrow have very little in common.
Most of the time, a digital leader will therefore only be successful in driving the digital transformation forward in her organization if cultural and technological changes go hand in hand.