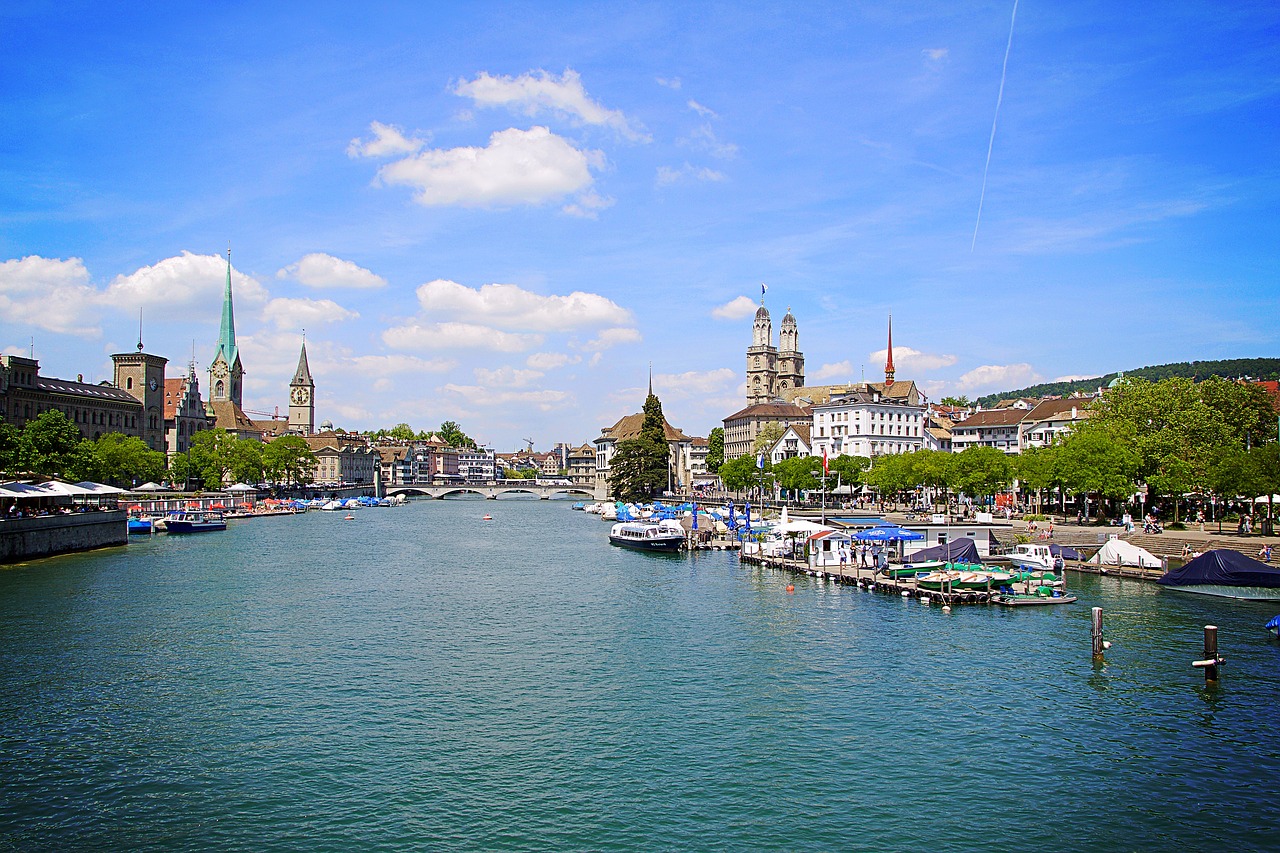 The Startup Hub In The Heart Of Europe: Zurich
Zurich is an innovation hotspot abuzz with many great founders pushing forward novel business ideas and digital technologies. Learn how to found and launch a startup in this amazing city.
Zurich is Switzerland's largest city and often places in the top three of the Mercer report for most livable cities. This city is also constantly pushing the boundary of innovation: ETH Zurich is the highest ranked technical university in continental Europe with a strong spin-off tradition, Google has its largest engineering office outside of Mountain View, the campus of IBM Research Zurich is home to two Nobel prizes, Disney set up its only European site in this city and a host of bitcoin and blockchain startups are headquartered in what has been dubbed "CryptoValley", potentially on the brink of reshaping the financial system as we know it.
This blend of livability, finance and innovation makes Zurich ripe for entrepreneurial success. On a broader scope, Zurich is at the heart of an economy, which according to a recent EY Digitization survey leads the league tables when it comes to investment into and positive outlook on digital technologies. Learn more about the advantages and challenges of founding a startup in the heart of Europe.
GPS Direction: Zurich
Advantages Of Starting Up In Zurich:
High-Tech Ecosystem: Switzerland is ranked the most innovative and competitive economy in the world.
Access to Talent: Thanks to the apprenticeship system many young people already have hands-on experience early on. Zurich is also home to two globally renowned universities – the ETH (Swiss Federal Institute of Technology) and UZH (University of Zurich).
Privacy and Data Security: For long Switzerland has been known as a country with strict privacy laws, also for data privacy. This has made Switzerland a hub for companies to locate their servers and store customer data. The Swiss military has also started selling old bunkers, which some companies have purchased to act as server farms.
Availability of Capital: Switzerland is home to 15 Fortune 500 companies and hundreds of head offices for EMEA and other areas. These companies are keen on investing in startups. Different government bodies have also set up funds for new companies. On top of that the Swiss themselves have the highest disposable incomes in the world.
High Quality of Life: Since 2012, Switzerland has been at the top of the UN's World Happiness Report. According to the Economist's Where-To-Be-Born Index(formerly Quality-of-Life Index), Switzerland will be heading the index in terms of health, safety and prosperity in the coming years.
Political Stability and Protection of Law: Switzerland is a constitutional democracy and has a long tradition of voting. Switzerland also ranks 4th best country for the protection of intellectual property.
Bureaucratic efficiency: Switzerland is well known for its bureaucratic simplicity and efficiency, offering convenient public services, most of which are already digitalized (E-Government).
Multilingualism: The four national languages of Switzerland are German, French, Italian and Romansh. Furthermore, it has become increasingly common to use English as the business and administrative language.
Cultural diversity: The City of Zurich has a population of about 380,000, one third of which come from more than 160 countries.
Location: The rail network make cities like Milan, Paris, Frankfurt and Munich accessible within four hours. Zurich Airport, the second highest rated European airport, also makes travel between Zurich and other metropolises like London, New York, San Francisco and Dubai easy.
What Startup Founders Have To Consider:
High Costs: In Zurich wages fit the cost of living which means startups face the challenge of higher costs to launch and run a business. Fortunately, there are many startup programs and business angels offering help for promising startups (see our reference list below).
Residence Permit: Though Switzerland is a member of the Schengen area, it is not a member of the EU. Consequently, different immigration regulations and contingents apply. It is easier for EU/EFTA citizens to obtain a permit than for those from non-EU/EFTA countries.
Cultural Diversity: With four national languages companies will need to invest in translation work to really access the Swiss market, especially English to German.
First Stop: Discover Zurich's Vibrant Startup Community
As many of the world's leading business centers, Zurich is very supportive of its startup ecosystem. This ambition to nurture startups and innovation is shared by policy makers and businesses alike. This section will take you on a tour of Zurich's most innovative hotspots.
What's Up In Switzerland? – News, Calendar, Topics:
StartupTicker: a comprehensive listing of Swiss startup news, events and trainings.
Zurich Startup Events: Facebook group filled with startup activity in Zurich and Switzerland.
Swissstartups.org: An interactive map of the Swiss startup landscape. Find incubators, accelerators, events, and even more.
Regular Events And Meetups:
ImpactHUB Zurich events: features a vast array of various events and platforms organized by the Impact Hub Zurich startup community.
Startup Grind Zurich: A monthly event series featuring successful local founders who share lessons learned on the road to building great companies.
Zurich Entrepreneur Meetup: an entrepreneurial community providing people with opportunities to network, share ideas and help each other succeed in a friendly and casual way.
Lean Startup Zurich Meetup: a dynamic group of people meeting up to discuss the application of the lean methodology to startups.
Yearly Or Major Events, Festivals, Conferences:
HackZurich: Join the biggest Hackathon in Europe. HackZurich and the Digital Festival take place in September and attract leading minds from all around the world.
Finance2.0: Annually held conference regarding the state of FinTech in Switzerland. A great place to gain new insights and connect with important players in the field.
Investor Summit: Leading Swiss startups pitch to 50 national and international investors as well as 50 CEOs on the first day of the World Economic Forum. The event is held at Zurich Airport.
WorldWebForum: This conference gathers some of the world's most exciting names in digital innovation from Silicon Valley and Switzerland.
Startup Weekend Zurich: Spend 72 hours meeting people with different ideas and skills and together build the foundations of an amazing startup.
TEDxZurich: Switzerland's longest running and largest TEDx conference is an excellent place to get inspired by new ideas and network with leading minds.
Co-working Spaces In Zurich
Here is your comprehensive guide to the best coworking spaces and open offices in and around Zurich.
Impact Hub Zurich: Access to inspiring workspaces, a vibrant learning community, startup incubation programs, corporate innovation workshops and entrepreneurial leadership trainings.
BüroZüri: This free coworking space sponsored by the Zürcher Kantonalbank is located on Zurich's Bahnhofstrasse, the most famous and expensive street in Zurich. Work spaces for up to two people or workshop spaces for up to 6 people are for free. Registration is required.
Citizen-space Zurich: These flexible coworking spaces in trendy Zurich West and beyond offer you 24/7 work space and bookable meeting rooms.
Rocket Park: This cool coworking space combined with an incubator in Zurich focuses on e-business startups. They offer attractive prices and services such as tax and legal advice and have a sister space in Berlin.
Technopark: For those looking for something more private and permanent, the Technopark offers lease contracts for office space starting at 20 sqm and tailored to your specific requirements. Reception, cleaning and security/surveillance services are included.
Regus: A worldwide player in office space, Regus offers serviced offices, virtual offices, meeting rooms and videoconferencing on a contract basis.
FabLab: Get access to 3D printers, CNC milling machines and more for high tech manufacturing. FabLab is a club and requires a membership.
Bureau.D: This coworking space in Dietikon, West of Zurich is a great space for those living in Zurich Altstetten, Schlieren, Dietikon or the Limmat Valley.
Popup Office: An easy to use website to find the right space for you. It has most of the listed coworking spaces in its database.
Financing Your Startup In Zurich
In Zurich there are many possibilities to acquire capital to help get your business off the ground. Here is a selection of hubs and platforms in Zurich that can help you gain access to the money you need to succeed.
Accelerators & Incubators:
Kickstart Accelerator: The Kickstart Accelerator is a fast-track gateway for entrepreneurs from around the world to access the Swiss innovation ecosystem. In this 3-month program, the selected founders and their teams live and work in Zurich and are provided with funding, coaching, office space and fast-track access to relevant industry partners.
CTI Startup: a multi-phase, guided process, lasting 6 to 24 months. A dedicated expert will help your venture evolve sufficiently to apply for the CTI Startup Label. After receiving the CTI Label, entrepreneurs may benefit from additional CTI Startup coaching during Phase IV in areas critical to implementation. The coaching support is free of charge, all startups need to invest is time and effort.
STARTUPS.CH Academy: Learn from the mistakes of others and get valuable expert insights as you prepare for the challenges ahead. They have numerous consultants, lawyers, and trustees who can help young entrepreneurs launch new ventures.
ImpactHUB Fellowship: This is a topic-focused entrepreneurial idea award and one-year incubation program designed to attract, select and support early-stage impact-oriented entrepreneurs and help them develop their innovations for a more sustainable world.
Technopark Counseling and Coaching: Technopark Zurich is designed to facilitate knowledge and technology transfer. Furthermore, it aims to support founders in launching new technology companies, offering founders an extensive range of counseling, project and training services.
Swiss Startup Factory: An independent 3-month accelerator program for digital entrepreneurs with industry mentors, office space and access to valuable networks.
Venturelab – Startup Essentials: Startup Essentials by Venturelab is a series of workshops covering the know-how and tools required to accelerate the development of your startup.
Saft 2050: An incubation program for Switzerland-based entrepreneurs in the field of smart cities, energy efficiency, and distributed energy generation that can play a role in Switzerland having a 100% sustainable energy economy by the year 2050.
Venture Kick: From great idea to venture funding. This three-stage funding process can get you there with a chance at CHF 130K in funding.
Angel Investors & Venture Capitalists:
Go Beyond: A team of business angels, providing funding to early-stage startups in the areas of technology, industry, consumer goods, as well as internet & mobile.
Business Angels Switzerland: An 88-member group of Business Angels (investors and entrepreneurs) giving young entrepreneurs the opportunity to present their projects and start-ups to obtain financing, coaching, or both.
RedAlpine: Venture investors keenly interested in disruptive technologies in the fields of ICT and Life Science.
Investiere: Expose your startup to experienced venture capitalists. The best may get selected for funding via their portal.
Lake Star: Lake Star invests in Internet and technology companies, and focuses on business models that can quickly achieve global scale.
Creathor Venture: Very selective venture capitalists that are looking for disruptive ideas. They'll be there from idea to IPO.
Startangels: A platform for business angel investors with the mission to offer members access to attractive investment opportunities in early-stage Swiss companies.
b-to-v: Venture capitalists primarily focused on scalable MedTech and CleanTech in German-speaking Europe and beyond.
Get Further Advice From Zurich's Mentors
If you want to start up in Zurich, the website gruenden.ch provides you with a good overview of considerations and requirements as well as first-hand advice for non-Swiss citizens (information in German and English). Startups.ch is also an excellent resource and can get you set up with vital business services like accounting, lawyers and insurance.
You may also want to visit the official City of Zurich website for more information of the one of The Greater Zurich Area, as they have an extensive business network and can help to make the move easier.
Finally, perhaps the best way to get the help you need is to connect with other founders and entrepreneurs in Zurich. All the founders I know in Zurich are open and generally eager to help.
Zurich looks forward to welcoming you and your ideas!
This article was first published on magazine.startus.cc:
https://magazine.startus.cc/startup-hub-in-the-heart-of-europe-zurich/